Electric Hydraulic Orange Peel Grab
Electric Hydraulic Orange Peel Grab
Certification:
ABS,BV,CCS, DNV,LR,NK,ISO
Material Density:
2.5t/m3-3.5t/m3
Volume:
0.63m³ to 10m³
Loading Material:
scrap steel, construction waste or garbage, rubbish, life waste etc.
Applications:
terminals, stations,metallurgical plants, power plants, garbage power plant
There are two types :
Scrap Orange Peel Grab and Waste Orange Peel Grab. Ithas its own hydraulic system, the key elements of which are of recognized brand imported abroad which ensure the high performance of the grab. It is simple in structure, easy to operation, high in performance.

CAD DRAWING
TECHNICAL PARAMETERS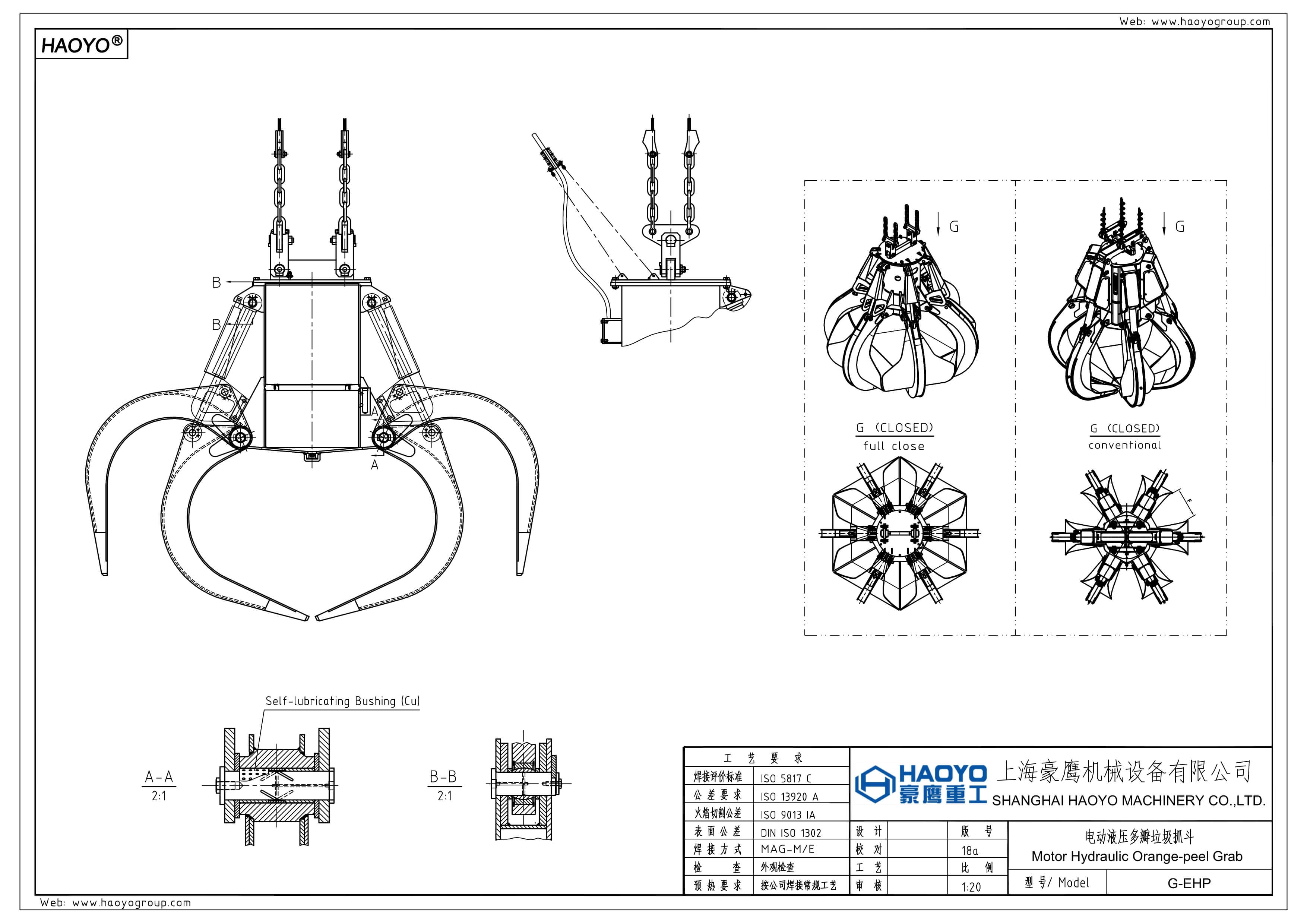 No.

Model

Max. Lifting Capacity

(t)

Volume

(m³)

Dead Weight

(t)

Motor Output

(KW)

Close/open Time

(s)

Max. Operating pressure

(Bar)

Number of Shells

380V/50Hz

380V/50Hz

001

GEHP630

5.0

0.63

2.0

15

8/6

180

5

002

GEHP800

6.3

0.8

2.4

22

8/6

180

5

003

GEHP1000

8.0

1.0

3.2

30

13/9

200

6

004

GEHP1250

8.0

1.25

3.4

30

13/9

200

6

005

GEHP1600

10.0

1.6

3.7

30

13/9

200

6

006

GEHP2000

12.5

2.0

5.4

37

16/11

200

6

007

GEHP2500

16.0

2.5

5.8

37

16/11

200

6

008

GEHP3200

20.0

3.2

6.3

37

16/11

200

6

009

GEHP4000

25.0

4.0

8.5

45

20/14

220

7

010

GEHP5000

30.0

5.0

9.0

45

20/14

220

7

011

GEHP6300

35.0

6.3

10.5

55

24/17

230

7

012

GEHP8000

40.0

8.0

11.8

55

24/17

230

8

013

GEHP10000

50.0

10.0

12.6

55

24/17

230

8
Feedback form contact with us
Related Product