EXCAVATOR HYDRAULIC CLAMSHELL GRAB
EXCAVATOR HYDRAULIC CLAMSHELL GRAB
Excavator Hydraulic Clamshell Grab mainly used on excavators,the grabs use the hydraulic power system of excavator,to control the grab open and close. Thanks to the grab without its own hydraulic systems,owners can pay less purchase and maintenance cost.
Excavator Hydraulic Clamshell Grab for loading woodchips,coals and other materials, piled density up to 1.2t/m³.

The grab is clamshell type, can be made with teeth also.
Please advise grab capacity, cargo information, so we can provide you the right model grab.
DETAILS
CAD Drawing of Excavator Hydraulic Clamshell Grab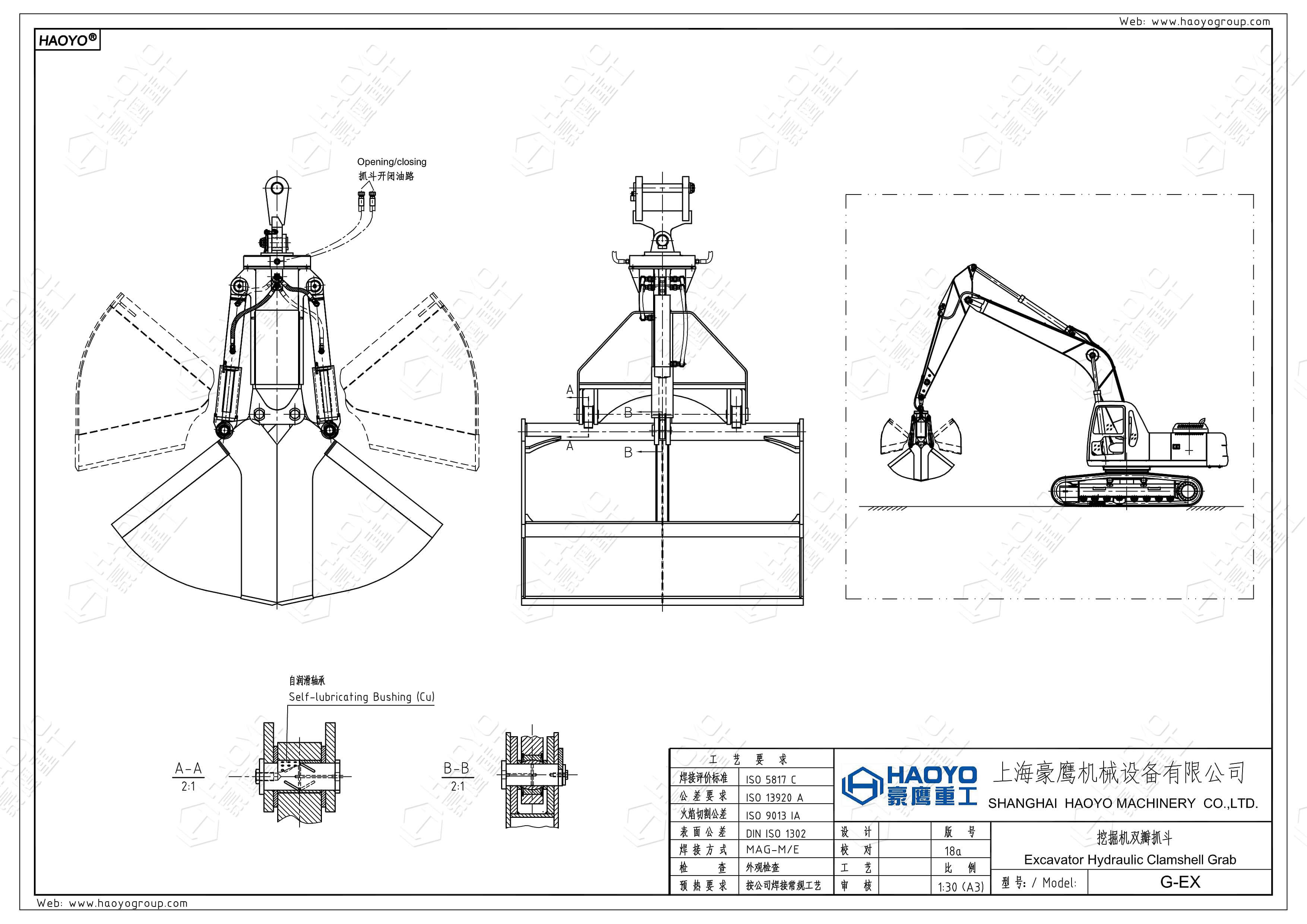 Models of Excavator Hydraulic Clamshell Grab
NO.

Model

Dead Weight

(t)

Volume

(m3)

Material Stacking Angle

( °)

Density

(t/m3)

Lifting Capacity

(t)

001

1380

0.5

40

1.2

2.0

002

GEX630

1420

0.63

40

1.2

2.5

003

GEX800

1560

0.8

40

1.2

2.7

004

GEX1000

1980

1.0

40

1.2

3.2

005

GEX1250

2070

1.25

40

1.2

4.0

006

GEX1600

2180

1.6

40

1.2

4.2

007

GEX2000

2310

2.0

40

1.2

5.0

008

GEX2500

2450

2.5

40

1.2

5.5

009

GEX3000

2520

3.0

40

1.2

6.3

010

GEX3500

2580

3.5

40

1.2

7.0